TRADING PERFECTED: METATRADER 5 ON FAIRMARKETS!
MetaTrader 5 builds on the solid foundations its predecessor laid in the trading business.
Discover MT5's improved features and enhanced range of instruments with FairMarkets!
Mobile & Web Trading
Trade anywhere you want on
your mobile devices or
your browser
Automated Trading
Analyze the market &
automate trades with
Expert Advisors (EA)
Trading Signals
Copy proven strategies
of experienced traders
as signals
Easier Analysis
Get market direction
and data analysis
insights
WHAT IS NEW ON METATRADER 5?
MetaTrader 5 keeps all the good stuff MT4 had and even goes beyond! It comes with even better features and functions.
You will notice an increased number of instruments - as many as 1,000 CFDs!

MT5 can now handle seven platforms simultaneously! You don't need a multi-terminal version anymore!
Trade with a single click!
One-Click Trading technology executes orders instantly, so you can beat the competition!
Plus, you can now open 100 charts at once with 21-time frames!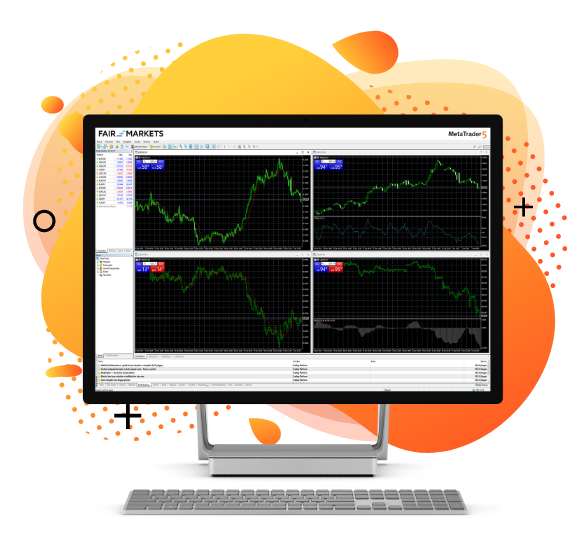 METATRADER 5 - DESKTOP
Download the latest version of the leading trading platform MT5 to your desktop computer and start trading with FairMarkets now.
The fifth edition of MetaTrader offers overall better performance and improved features compared to its predecessor, such as partial order filling and displaying 100 charts simultaneously.
MT5 is just as customizable as MT4, and it offers more technical indicators. MT5's smooth user interface can be fully shaped to your taste so you can trade & analyze the way you want.
Top Features
Trade FX and CFDs on commodity, share, and index prices.
Deep liquidity & market saturation
Supports Automated Trading (EA)
Quick access and execution
INSTALLATION OVERVIEW
System requirements for Windows
Windows 7 or higher, Win 10 recommended
Intel Pentium 4 / AMD Athlon 64 or higher
512 MB of RAM
50 Mb of free space
How to Install MT5 on a Windows PC
Click here to start the download
Run the setup and finish the installation
Log in with the details provided in the email from FairMarkets
Enjoy trading
For more detailed installation steps, please consult our installation guide here.
METATRADER 5 - MOBILE
Access financial markets on FairMarkets anywhere and anytime! Download MetaTrader 5 to your mobile devices and always stay on top of markets!
Download the app for Android or iOS devices to access all the core functions of MT5. Manage your positions on your phone or your tablet.
Open and close positions, get technical analysis and follow the latest economic news with just a few taps on your screen.
Top Features
Trade anywhere and anytime
Smooth and slick design
Intuitive UX and simple UI
Available for iOS and Android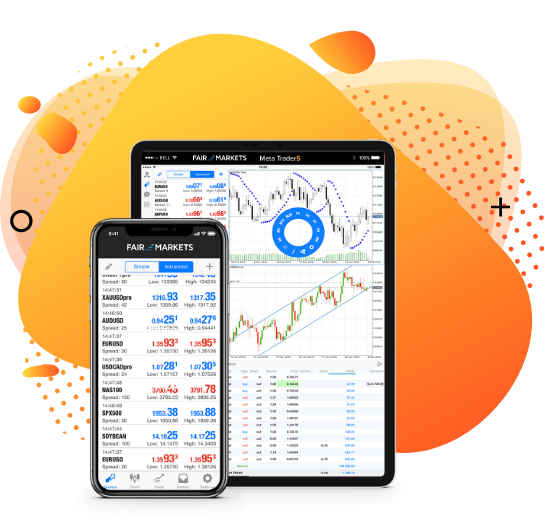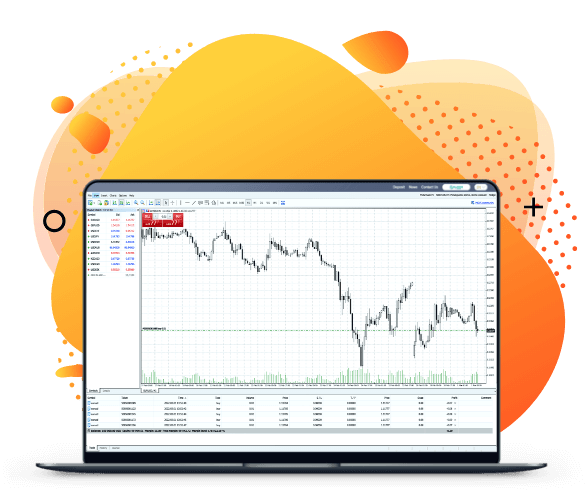 METATRADER 5 – WEBTRADER
Webtrader works with any browser or operating system and doesn't require installing additional software to your device.
MT5 Webtrader is a secure and advanced platform, allowing easy access to your positions. It is available to all FairMarkets clients on MyFairMarkets. Platform can also be accessed by simply clicking the Webtrader link on the homepage.
Webtrader has built-in privacy mechanisms and ensures a secure connection from your browser to FairMarkets trading servers.
METATRADER 5 - F.A.Q
What is the best platform for me? MT4 or MT5?
MetaTrader 5 is the latest official release by software developer MetaQuotes. Both platforms easily cover the basics of online trading and provide top service for free. For most retail clients using basic functions, there is really no difference in trading with MT4 or MT5. See comparison
Lot Allocation
Percent Allocation
Proportional by Equity Allocation
Equity Percent Allocation
Can I trade on MT4 with an MT5 account?
No. You need to download and login on the same platform that you registered for earlier.
How to add a new account on MetaTrader 5 mobile?
In case you want to switch from a demo to a live account, tap 'Settings' icon at the bottom-right corner. Then tap New Account at the top of the menu. Fill the login form with your new details and confirm. You will have both demo and live accounts saved on your mobile device.
How to add a new account on MetaTrader 5?
The platform already asks for your login details on the initial launch. In case you want to switch from a demo to a live account, click 'File' and then 'Open an account'. Select FairMarkets from the list and login with new details, using the e-mail we sent. Don't forget to switch servers from demo to live.
Is it possible to obtain a demo account before making a decision?
Yes. On FairMarkets, you may create a demo account and practise trading with virtual currency at any moment. With FairMarkets, you may experience trading Forex and other CFDs on MetaTrader 5.
Which trading instruments are available on MetaTrader 5?
Just like MT4, you can trade all CFDs for currency pairs Forex, Shares, Indices and Commodities with FairMarkets on MetaTrader 5 platform. In addition to spots, you can trade futures with MT 5.