MetaTrader 4 Forex Investment: Easy and Profitable
The primary purpose of Forex meta traders is to facilitate international investment and trade by enabling the exchange of one currency for another. Central banks, institutional investors, currency speculators, and small investors are among those who trade in the Forex market. By nature, MetaTrader 4 forex markets are highly volatile, highly sensitive to economic and political developments, and can react to these developments with very rapid and very high price movements. Therefore, it will be healthier for investors who are aware of this high volatility and can tolerate large price changes in a short time to trade in the MetaTrader 4 Forex markets. With the FairMarkets MT4 demo account, you can gain experience before you start trading.
Advantages of the MT4 Platforms
The Forex MT4 market has advantages such as high liquidity, leverage, order diversity, easy access, bidirectional trading, and low transaction costs. On the other hand, high volatility, excessive leverage, exchange rates, and long trading hours are important risks that need attention. As with every financial transaction, forex transactions have advantages and risks. Investors need to be mindful of the risks while using the advantages. The key advantages of trading MT4 are:
High Liquidity
It is the most liquid market in the world, with a daily transaction volume of nearly $6 trillion. It is very difficult for speculation and manipulation to occur due to the high trading volume in MT4 trade.
Leverage Opportunity
When trading in MetaTrader 4, you can trade larger amounts than your collateral by depositing certain collateral.
Order Diversity
You can limit your losses or separate your profits thanks to the diversity provided in the orders you can place during your transactions. The expert advisor mt4 service helps you at every stage of your transactions in this respect.
Easy Access
You can access and trade the MT4 online 24 hours a day on weekdays with your computer from anywhere you can connect to the internet.
Opportunity to Trade in Both Directions
You can profit from the prices going in both directions. You have the opportunity to win not only when prices are rising but also when they are falling.
Low Transaction Cost
Since the liquidity is high, the difference between buying and selling prices is low, and additional fees and commissions are generally relatively few and limited.
Risks of the Forex Market and Opportunities of the MT4 Platform
Forex markets are highly volatile, and highly sensitive to economic and political developments, and they can react to these developments with very rapid and very high price movements. Therefore, it would be healthier for investors to trade with the awareness that they may have to tolerate large price changes in a short time. The MT4 platform helps users at this point. On the other hand, Forex markets are markets that can be traded 24 hours a day on weekdays. On the other hand, it is very important to follow the positions closely as they are highly volatile and highly sensitive to developments. For this reason, investors may experience significant losses when they do not follow the market – if they are holding an open position. It is much easier to follow the market on the MT4 platform. If you are a conscious and experienced investor, mt4 indicators can guide you effectively.
Trade 24 Hours in the MT4 Trading Platform
In the MetaTrader 4 fx system, you can invest up to 10 times the amount of the investor's money in commodity products, and at the same time, commodity products can be traded 24 hours a day, every day of the week. Since it is a transaction made on the stock market, there is no physical transaction when buying and selling products. FairMarkets is a MetaTrader 4-based electronic trading platform that allows you to access forex markets 24 hours a day with the assurance of IS Investment.
Mobile & Web
Trading
Trade anywhere with
mobile devices and
the browser version
Automated
Trading
Expert Advisors (EA) to
analyze the market & to
automate your trade
Trading
Signals
Get trading ideas
from experienced
traders as signals
Advanced
Analysis
Get insight about
market direction with
technical analysis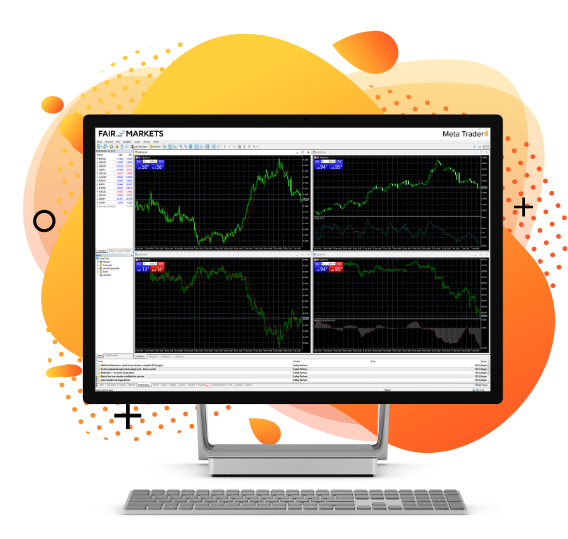 METATRADER 4 - DESKTOP
Download the powerful trading platform MT4 to your PC or your MAC and
start trading with your global trading companion, FairMarkets!
Enhance your experience with unlimited charts, over 50
technical indicators and 9 timeframes.
Customize MetaTrader 4's interface to your taste and monitor
market movements live.
Top Features
Trade Forex and other CFDs for financial instruments
Deep liquidity & market saturation
Supports automated trading with Expert Advisors (EA)
Instant access and execution
SYSTEM REQUIREMENTS
System requirements for Windows
Windows 7 SP1 or higher
Intel Celeron-based processor, with at least 1.7 GHz frequency
256 MB of RAM
50 MB of free space
How to Install MT4 on Windows PC
1 -

Click here to start the download

2 -

Run the setup software and finish the installation

3 -

Login with the details provided by FairMarkets in the email

4 -

Start trading!
For more detailed installation steps, please consult our installation guide here.
METATRADER 4 - MOBILE
Take your trading platform anywhere with you! Manage your trades any time you want with MetaTrader 4's slick mobile app!
Download the mobile app to access all core functions and manage your positions on your phone or your tablet.
View the latest market movements and get technical analysis with just a few
taps on your mobile device. Simple as that!
Top Features
Trade anywhere, anytime
Smooth and practical design
Intuitive and simplified UX
Available for iOS and Android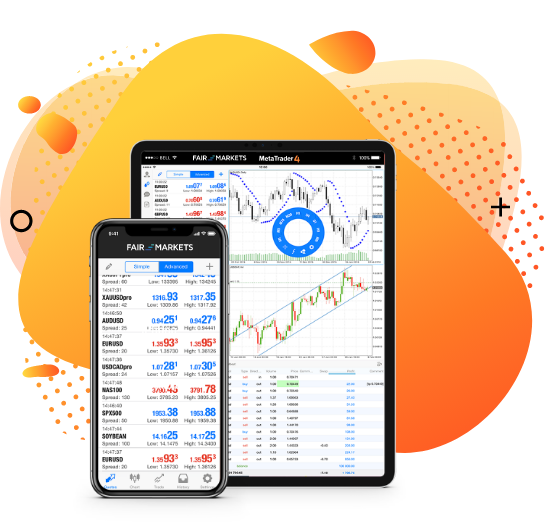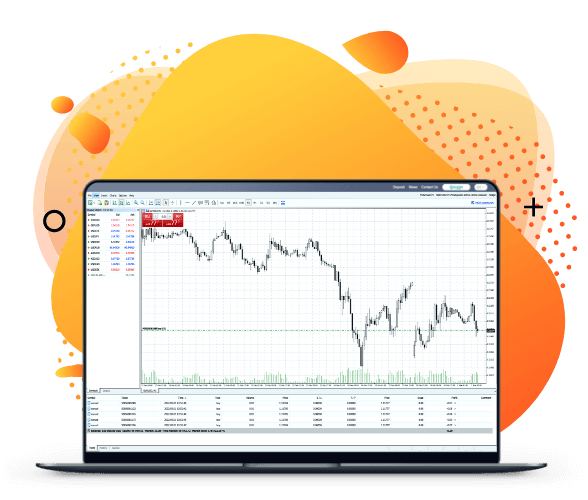 METATRADER 4 – WEBTRADER
Webtrader works on any browser and any operating system without installing
the software to your device.
The MT4 Webtrader is a secure and sophisticated platform, allowing access to your positions easily. All clients can access the browser version in MyFairMarkets or simply by clicking the Webtrader link on the menu.
Webtrader has built-in privacy mechanisms. It establishes a secure connection from your browser to FairMarkets servers directly.
METATRADER 4 -F.A.Q.
Is MetaTrader 4 Reliable?
Among the reasons behind the adoption and use of the platform by investors is its reliability. MetaTrader 4 features include customizability and security, ease of use, graphics capabilities, and powerful performance. The question of whether MetaTrader 4 is reliable and legal is asked by many traders. Yes, MT4 WebTrader is a legit trading platform. Any use is prohibited. You can easily download it to your computer or download and use the mobile phone application.
What are the Products in the MT4 Trading Forex Market?
In the MT4 Forex market, in addition to price pairs (parities) of different currencies against each other, there are spot gold and silver transactions. Theoretically, it is possible to trade in all convertible currencies, gold and silver, but in practice, the product variety differs from institution to institution. You can start using FairMarkets right away by MT4 download and opening a demo account for yourself.
Why should I choose FairMarkets?
FairMarkets provides visual and statistical analysis and you can quickly access the news feed about the financial markets. With FairMarkets, you can easily and quickly trade in different pairs, gold, and silver using leverage. You can create different charts for different pairs, put indicators on the charts, create formulations, and avoid possible losses by using various order types. Start using FairMarkets right away by opening a demo account for yourself.