HOW TO DEPOSIT INTO YOUR ACCOUNT
To trade Forex and other CFDs, you need to deposit a certain amount of investment as a margin. You can
deposit the amount you want to trade into your FairMarkets account balance easily via several methods.
To begin, log into your Secure Client Area (SCA) on MyFairMarkets Dashboard page.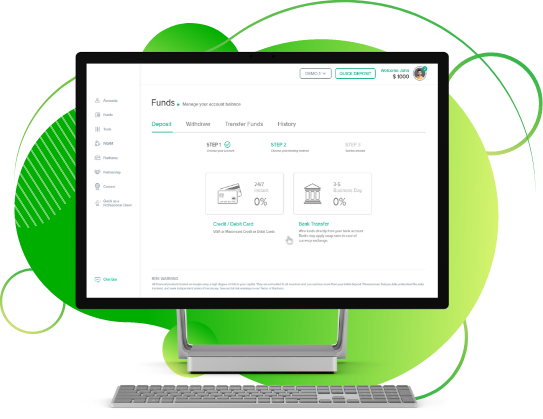 HOW TO FUND YOUR ACCOUNT

The deposit page greets you with a list of your active trading accounts. In the next step, you will see several options for investing in your account. Choose your preferred method and proceed to the payment screen.

We recommend using a Credit/Debit Card for instant reflection of deposited funds on your account balance. Alternatively, you can opt for a bank transfer or e-wallet technologies if they better suit your needs.
CREDIT CARD
The quickest method for funding your account… FairMarkets accepts all major credit cards to deposit funds easily.
DEPOSIT NOW
BANK TRANSFER
Wire your deposit from a bank account.
Payment details are found after login.
It takes longer than credit cards.
DEPOSIT NOW
E-WALLET
Secure and fast payment transfer alternative for Skrill e-wallet users
DEPOSIT NOW